Louise Simonson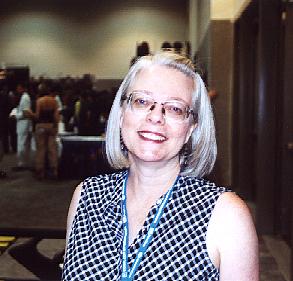 Louise Simonson killed Superman!
Well, kind of. If you were alive in the 90s, you may remember the Death of Superman, where the eponymous Man of Steel met his (supposed) demise at the hands of Doomsday. Louise Simonson (nee Jones) was one of the writers during that monumental story arc and has continuously created key moments and characters for both DC and Marvel.
Louise Simonson, nicknamed Weezie, began working in comics in 1974. She worked as an editor for Warren Comics before moving on to write for Marvel and DC. Simonson has created some of the most influential and critically acclaimed stories of the 80s and 90s. She createdThe Power Pack with artist June Brigman, wrote extensively for the original X-Factor, and of course, wrote and story boarded the Death of Superman. She created Apocalypse, one of the X-men's most insidious and recurring villains. She also created Steel, an African American man named John Henry Irons who, upon seeing the void left by Superman, built a suit of armor that gave him super strength.
Louise Simonson has also written picture books and novels for younger readers. She has also created Covergirls, a historical non-fiction book dedicated to the women of the DC Universe. Find more from and about Ms. Simonson after the jump!
Death of Superman: Disputably the magnum opus of Simonson's (and other's) careers, read the fall of one of the world's most beloved characters.
Girl Comics Wiki: Louise Simonson: This wiki, maintained by devoted comic book fans, gives a more extensive overview of the life of Ms. Simonson.
Louise Simonson's Comixology Profile: Find some of Simonson's best know work on a digital platform.
Follow Weezie on Facebook! Because she's a cool friend to have.